Don Dowling Plumbing provides 24/7 service, quick response rate, free estimates, honest, sincere, reasonable offering competitive pricing, high-quality work on high-efficiency products and equipment.
I began working construction in 1979 starting with minor repairs and appointments for multifamily homes. Naturally, I progressed in many facets of contracting and repair, and eventually, this evolved into expanding my expertise and qualifications to include heating, plumbing, and cooling. Within several years, I obtained my New Jersey Masters Plumbers license (#6628). Since then, I have acted as the general contractor or plumbing subcontractor on many projects.
In total, I have built approximately 30 homes and have enjoyed being the plumbing subcontractor for Habitat for Humanity for more than 25 years. I acted as the general contractor for the construction of five condominiums qualifying as climate choice homes. These homes have photovoltaic solar electric panels with inverters, solar thermal panels with with solar tank providing 50% of the domestic hot water need for the property. The homes are heated with staple up radiant heat provided by a 40,000 BTU domestic hot water tank. Typically, the heat loss in a building of this size would be 60 to 80,000 BTUs, but because of the tight nature of the construction and the intense insulation values the heat loss in the these units is between six and 8000 BTUs. This is energy smart.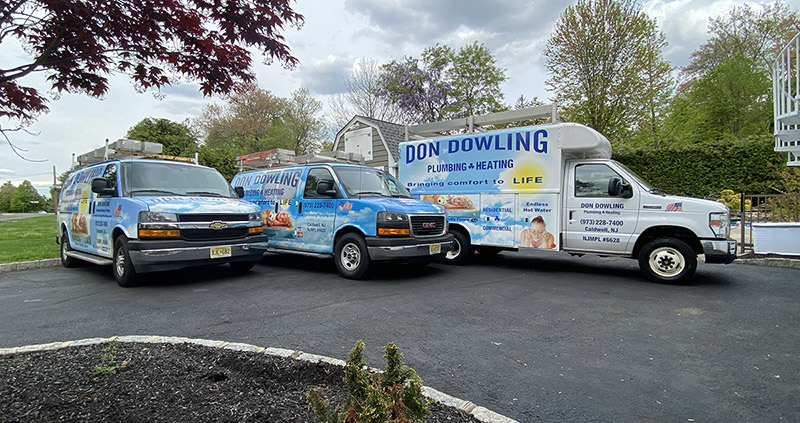 As the years went on, I started Don Dowling Plumbing with a goal of providing top-quality, professional courteous service second to none. I recognize the need for homeowners to have a "go-to" company on which they can rely for service and maintenance relating to all the comforts of home. I service all parts of Caldwell, Cedar Grove, Fairfield, Essex Fells, Little Falls and Verona, NJ.
If I can help you in any way, please don't hesitate to contact me, and I will reply promptly.